Mental Well-being
Mental Well-being
How to be emotionally strong? How to be mentally resistant?
Don't miss Gifts 2018. Self-help books for mental well-being.
My journey towards writing self-help books started long ago, perhaps, in my distressful childhood, when I questioned hostility and anger around me, and when I fought for my rights that should be given to any child. Desire to be happier and have a positive experience, always has been within me. I never stopped craving for good feelings, the same as any other person does.
Not only thanks to my unfortunate circumstances also thanks to my dear clients, I learned that we must not only sincerely hope for the good but also lots do. When facing difficult times, we must focus on acceptance, improvement and how to move on. Then we must learn to live happily with this, often painful, experience.
Life challenges and losses can knock us down and we have to keep getting up. We cannot give-up and we can do it. Because CHANGE HAPPENS but not by itself! Thanks to what we do and how we do it. This is my attitude that threads throughout my self-help books. You can find my books throughout any book seller or you can order them directly from me.
~ CONFIDENT ME. With confidence and solid self-esteem.
~ MINDFULNESS, BREATHE IN – BREATHE OUT. A brief introduction with audio tracks.
~ THE STRONGEST YOU. 12 week pogramme with techniques and audio tracks.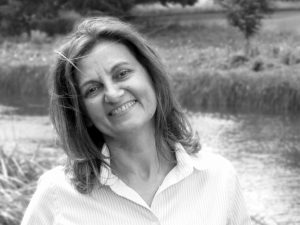 My books are to HELP.  They teach easy techniques towards success. They help to control the psychological aspects, which play critical roles in happiness and fulfillment. They are the guidance towards a high level of mental well-being. They help to: 
• understand how to be emotionally strong.
• bring results to life we desire.
• change the mind to improve feelings.
• start doing the things differently.
• release from negativity and fear.
MY PROFESSIONAL PAST
I have a vast experience with clients suffering mental health challenges related to depression, anxiety disorders, self-esteem, stress, trauma and relationships. My experience includes counselling and assessments. I  have training and experience in different counselling modules: cognitive – behavioral (CBT), narrative, solution focused, emotional and behavioral management, mental imagery & mindfulness.
MENTAL WELL-BEING through EMPOWERMENT 
My objectives are:
• Develop emotional resilience and psychological resistance.
• Activate the desired adaptation of the brain to reset the mind.
• Apply the powerful techniques that bring improvement.
• Develop the positive mind.
• Create positive self-expectations self-image.
• Change negative beliefs.
• Improve coping with stress.
• Build a solid self-esteem.
• Apply emotional & behavioral management.
• Motivate and  achieve.
If you wish to contact me, please use this contact form and briefly explain your reasons. I will respect confidentiality respond as quickly as possible.
WHAT MY FORMER CLIENTS* SAY ABOUT MY WORK
*To protect confidentiality I don't show their names.
"… My life has had a lot of ups and downs. Every up is taking me higher though 🙂 I am becoming more aware of myself and you truly are the reason I am awakening. I still fondly think of you and actually speak about you quite often. I hope you're doing well! … Sending you love and positive vibes!
-M. M., Toronto
"Ivana, thank you so much for yesterday, I feel really good today and able to concentrate and be more productive at work. I'm not sure what nerve you hit but it really helped. I have not spoken to my mother yet but will do so without making it seem like she's to blame, I feel a little more at peace today…I hope this continues. Again, I just wanted to thank you so much and look forward to seeing you soon. If there is any advice you can give me in the interim that would be great.
-A.R., Etobicoke
"I am a much happier and calmer person than I used to be. Thank you so much."
-Jane H., Toronto
"Thank you from my heart! Your techniques are very uplifting and eye-opening.
-Mark L., Mississauga
"I must share with you that I had a good night's rest at last! Our session yesterday must have done the trick in relaxing me and allowing me to feel what needed to be felt. I managed to get some work done before going to bed and slept through the night. Thank you for your listening skills and for introducing me to tapping! This is a new technique which at first felt a bit odd, but essentially works wonders!! My mood is positive, my energy level is higher I feel rested. Again, thank you!!"
-N. A. C., Mississauga
"We have received such positive feedback from the school about her progress, we are so pleased… I hope you know how appreciative we are of all the work you have done with our daughter to help get her to the point of where she is now. We are so pleased with all that you have done with her and we know we couldn't have done it without you!!!"
-B. F., Oakville
ABOUT ME
I was born and educated in Bratislava, Slovakia (the former Czechoslovakia) and moved to Toronto, Canada where after obtaining training I launched my practice in Toronto. Since 2008, I become a member of The Association of Registered Psychotherapists & Mental Health Professionals, Dalton Associates, Psychological & Counselling Services in Ontario. After I joined Greater Toronto Area Psychological & Counselling Services, I extended my work throughout Halton & Waterloo Regions in Southern Ontario. Modern technology makes the world an ever smaller place and has enabled me to help clients around the world offering online face-to-face counselling in Canada and around the world.
Currently residing in Yorkshire, England, I continue to bring inspiration with my unique style to help others.
PROJECTS I MANAGE
Years ago I created this BLOG to help others through my sharing & talking mental health, what people can do to become psychologically stronger and happier. I talk about the techniques and tools aiding psychological well-being.  Respectfully, I disclose hardships and how others overcame difficulties, which can inspire other people. Stay here for a moment, check my recent or older posts. I can guarantee you'll learn something you didn't know…
I developed a  SOCIAL PROJECT   called  FEEL-GOOD.XYZ to promote mental health, increase awareness and allow free access to resources. FEEL-GOOD.XYZ  is a valuable online center to help teach to understand emotions, thoughts and actions and how all these connects. There is thorough information about stress, depression, anxiety, trauma, mood disorders, anger, problematic self-esteem and relationships. This project is to spread awareness of good mental health and distinguish ill health. The reader finds here description of disorders and their symptoms, useful techniques, links and navigation towards other resources.
In the recent years I developed  BOOKS & ALBUM and launched THE STRONGEST YOU.NET to educate and embrace people who wish to experience happier and perhaps more meaningful life. I created and released a series of self-help books and audio tracks for the general public to reduce stress, improve feelings, create positive self-image and increase overall happiness. This is an ongoing project, I have been working on more chapters and tracks to be released.
I founded IVANA INTERNATIONAL , the umbrella covering my current work and business projects, including associated facilitating enterprises PHOTOGRAPHY & DESIGNS.
"In the mind and self, be The Strongest You… When my life lost momentum I was caught unprepared and exposed to traumatizing stress and loneliness. I was hitting rock bottom. My occupation and education should have given me the insight to cope but in my depths of despair I needed something more. I had to find a way of taking control and find the strength to rebuild my life; to rediscover the feelings of happiness and joy. The approach I share through my book and work became a life saver. It helped me to come to terms with difficult challenges, carry on with life and continue to help others. The Strongest You is not a statement; it's the constructively used inner force. Any person can do it. The Strongest You is the catalyst for positive change through the powerful mind."