Well-being & Stress Management
Well-being & Stress Management
How to be strong? How to be resistant? How to be less stressed?
I believe in a human approach to well-being. As one of my teachers said, some people feel so stressed, sad and scared that this changes their brains: the ways we think and what we think about, the ways we feel and the actions we take, shape our brain; similarly as we can shape our physical health.
There are all kinds of reasons why we do not feel all right, or take actions that make the things worse. To change, we can use self-improvement and empowerment. An understanding of what has happened and how this has affected well-being. When we increase awareness and control, then we can experience a happier and more fulfilled life.
Don't miss my self-help books for well-being.
You, as every other person, crave for a happier and less stressed life.  And you can learn how to have it (regardless the stream of your life).
Someone said changes happen but they do not happen by themselves. They happen thanks to us.
Perhaps, my not straight-lined childhood, my travels and curiosity, self-motivation and never-give-up attitude, fuel my desire to have a positive life experience, and share these with you. I help to make you more powerful (even you might experience difficulties or falls) and do the new things.
How do I help?
We do not change what life brings. We learn how to benefit from it. Valuable actions, which multiply your power, stress management and improvement of your feelings. We work on your focus. We invite change. We try to achieve what you desire (it does not matter how many times).
My books are sold throughout major booksellers, or you can order them  directly here . I have published three self-help books:
1. CONFIDENT ME. With confidence and solid self-esteem.
2. MINDFULNESS, BREATHE IN – BREATHE OUT. A brief introduction with audio tracks.
3. THE STRONGEST YOU. 12 week pogramme with techniques and audio tracks.
Apart of books, I have recorded a few guided  exercises for mental well-being and published the album under the name "Unwind the Stress". It's a collection of 9 audio tracks using mental imagery and auto-hypnotic practice to relax and let go. You can listen the samples here.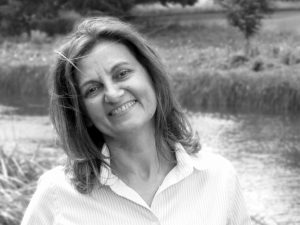 I teach short-term courses and educate public. My work is my mission.
I teach easy to follow techniques reducing stress, helping to progress, leading towards a high level of well-being. I help to control those psychological aspects which influence mental well-being, feelings and fulfillment. Some benefits of work with me and my self-help books might be:
• stress management • understanding personal limits and strengths •  copying with depression, anxiety • improving self-esteem • resolving problems •  increasing positive thinking • achievement • improving the style of thinking •  understanding and changing emotions, emotional management • taking beneficial actions helping to progress • reducing negativity, fear, worries and sadness.
MY HISTORY 
I have experience in education and in a few counselling modules: cognitive – behavioural, cognitive – processing, solution-focus, emotional and behavioural management, relaxation techniques & mindfulness. My experience involves screenings and assessments, work with  clients coming from a variety of backgrounds. I have a vast experience in psychological rehabilitation, depression, anxiety, trauma, post-traumatic stress disorder (PTSD), clients with low self-esteem, challenging relationships, difficulties to adjust after losses.
I work with individuals personally and virtually. I teach courses, deliver workshops and presentations. 
I have launched my private practice in Toronto in 2008, after I became a member of The Association of Registered Psychotherapists & Mental Health Professionals (OACCPP). I collaborated with Dalton Associates, Psychological & Counselling Services in Ontario, GTA Psychological Services and Dr. Bodnar & Associates. I worked throughout the region of GTA, Halton & Waterloo in Ontario. Currently I work online and in Yorkshire, England.
Born in Czechoslovakia, I  obtained my degrees and first experience in Bratislava, SK. I moved and worked in Toronto, Canada, where I obtained training in Behavioural Science, Autism, Cognitive Behaviour Therapy (CBT for anxiety & depression, CBT for complex disorders), solution-focus, cognitive processing for trauma, and mindfulness. I obtained training in autism and applied behaviour analysis (ABA).
YOUR EMPOWERMENT 
With positiveness, you can find strength within yourself, change attitude, more effectively respond to life, pursue desire, relate to yourself and life in a new way. You can achieve a grater well-being through meeting the goals such as:
• development of emotional resilience and psychological resistance.
• activation of the desired adaptation of the brain and resetting the thinking style.
• application of  the powerful techniques that bring improvement.
• development of the positive mind and attitude.
• creation of positive self-expectations and positive self-image.
• change of negative beliefs.
• improvement to cope with difficulties and stress.
• building a solid self-esteem.
• application of emotional & behavioral management.
• improvement of motivation and achievement.
There may be other objectives you might have. If you wish, please use this contact form. I will respect confidentiality and respond as quickly as possible.
WHAT MY FORMER CLIENTS* SAY ABOUT MY WORK
*To protect confidentiality I don't show their names.
"… My life has had a lot of ups and downs. Every up is taking me higher though 🙂 I am becoming more aware of myself and you truly are the reason I am awakening. I still fondly think of you and actually speak about you quite often. I hope you're doing well! … Sending you love and positive vibes!
-M. M., Toronto
"Ivana, thank you so much for yesterday, I feel really good today and able to concentrate and be more productive at work. I'm not sure what nerve you hit but it really helped. I have not spoken to my mother yet but will do so without making it seem like she's to blame, I feel a little more at peace today…I hope this continues. Again, I just wanted to thank you so much and look forward to seeing you soon. If there is any advice you can give me in the interim that would be great.
-A.R., Etobicoke
"I am a much happier and calmer person than I used to be. Thank you so much."
-Jane H., Toronto
"Thank you from my heart! Your techniques are very uplifting and eye-opening."
-Mark L., Mississauga
"I must share with you that I had a good night's rest at last! Our session yesterday must have done the trick in relaxing me and allowing me to feel what needed to be felt. I managed to get some work done before going to bed and slept through the night. Thank you for your listening skills and for introducing me to tapping! This is a new technique which at first felt a bit odd, but essentially works wonders!! My mood is positive, my energy level is higher I feel rested. Again, thank you!!"
-N. A. C., Mississauga
"We have received such positive feedback from the school about her progress, we are so pleased… I hope you know how appreciative we are of all the work you have done with our daughter to help get her to the point of where she is now. We are so pleased with all that you have done with her and we know we couldn't have done it without you!!!"
-B. F., Oakville
PROJECTS I MANAGE
Years ago I created this BLOG to help others through my sharing & talking mental health, what people can do to become psychologically stronger and happier. I talk about the techniques and tools aiding psychological well-being.  Respectfully, I disclose hardships and how others overcame difficulties, which can inspire other people. Stay here for a moment, check my recent or older posts. I can guarantee you'll learn something you didn't know…
I developed a  SOCIAL PROJECT   called  FEEL-GOOD.XYZ to promote mental health, increase awareness and allow free access to resources. FEEL-GOOD.XYZ  is a valuable online center to help teach to understand emotions, thoughts and actions and how all these connects. There is thorough information about stress, depression, anxiety, trauma, mood disorders, anger, problematic self-esteem and relationships. This project is to spread awareness of good mental health and distinguish ill health. The reader finds here description of disorders and their symptoms, useful techniques, links and navigation towards other resources.
In the recent years I developed  BOOKS & ALBUM and launched THE STRONGEST YOU.NET to educate and embrace people who wish to experience happier and perhaps more meaningful life. I created and released a series of self-help books and audio tracks for the general public to reduce stress, improve feelings, create positive self-image and increase overall happiness. This is an ongoing project, I have been working on more chapters and tracks to be released.
I founded IVANA INTERNATIONAL , the umbrella covering my current work and business projects, including associated facilitating enterprises PUBLISHING, PHOTOGRAPHY & DESIGNS.
"In the mind and self, be The Strongest You… When my life lost momentum I was caught unprepared and exposed to traumatizing stress and loneliness. I was hitting rock bottom. My occupation and education should have given me the insight to cope but in my depths of despair I needed something more. I had to find a way of taking control and find the strength to rebuild my life; to rediscover the feelings of happiness and joy. The approach I share through my book and work became a life saver. It helped me to come to terms with difficult challenges, carry on with life and continue to help others. The Strongest You is not a statement; it's the constructively used inner force. Any person can do it. The Strongest You is the catalyst for positive change through the powerful mind."