Confident Me (with Solid Self-Esteem & Confidence)
Confident Me (with Solid Self-Esteem & Confidence)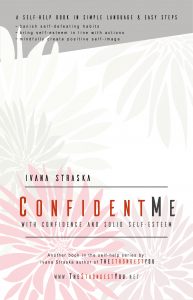 This book helps people caught in the trap of low self-esteem and lacking confidence. It guides the reader to change negative thinking about self and enhance strengths and qualities. The reader learns to build confidence with restructuring of their thinking, assertiveness, mindfulness, compassion, visualization, and much more. The book provides comprehensive strategies to change the habits that erode self-esteem. The paperback has space for the reader's writing and it includes QR codes to easily access additional free resources. E-format of this book includes direct links to these resources.
The goals of this book:
* Recognize personal values. * Build confidence based on personal uniqueness. * Learn to enforce strengths and positive feelings about self. * Learn strategies to banish self-defeating habits. * Bring self-esteem in line with actions. * Learn to think and feel positively about self. * Apply mindfulness into self-esteem. *Learn techniques to change thinking errors. * Learn how assertiveness and other strategies improve confidence. * Understand why acceptance and compassion help to self-esteem.
What people say about this book?
"This is an exciting alternative to the usual approach of building self-esteem, eminently practical and readable…"
http://A carefully constructed book taking the reader on a journey of building self-esteem based on personal values.
"Straska explains how people can work with themselves as they are. It is simple and effective groundwork, emerging from individual uniqueness rather than aggressively trying to change self…"
"Through thinking and writing, Straska guides the reader towards self-acceptance and becoming more confident while mindfully creating a positive self-image…"
"It tackles low self-esteem while utilizing the benefits of handwriting in a unique, concise and convenient format…"
"The key principles of mindfulness detailed here are also incorporated into acceptance and value-based esteem. Mindfulness is applied in an entirely practical way undertaken by the reader as part of their routine…"
"The self is a component of an individual, it is just one of the many parts that make us human, and make each of us whole. We are aware of physical parts because we see, feel, or in the case of internal organs we consciously acknowledge their existence. Yet the self is ethereal, we can think about it yet we rarely stop to acknowledge it…"
"Straska creatively presents techniques that anyone can use to undermine struggles. She makes the reader explore how they might be trapped in low of self-esteem. She powerfully shows them another way forwards."
"Neglect the self and we suffer. We find it difficult to be happy. We might struggle to thrive. This is the right book."
Solid self-esteem is not tangible but is something that people need to smoothly move through life and do it with joy. Self-esteem is a core psychological asset allowing the utilization of skills and potential. Solid self-esteem works as psychological immunity. It protects an individual's strengths and allows personal adequacy. The good thing about self-esteem is that nobody is born with low or high esteem.  Almost anyone can build a solid self-esteem.